Consumer Textile Corporation has always been a family-owned-and-operated business. We are the largest independent laundry in Western Oklahoma and have locations in Clinton, Weatherford, Elk City, and Lawton. We deliver to over 300 towns in Oklahoma, Texas, and Kansas.
For over 100 years, our mission has been to live up to our slogan: We Deliver Satisfaction.
At CTC, we're known for our unique partnership with our customers. We don't have "business relationships," we have friendships. As a full-service company, we can solve many of our customers' needs. Being family-owned with a working owner ensures that any problems or issues can and will be addressed immediately and resolved quickly.
WHY DO BUSINESS WITH CTC?
Service
Reliability
Over a Century of Experience
Personalized Service
Direct Access to Top Management
Driven to Satisfy
Locally Owned and Operated
We Answer the Phone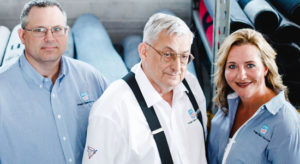 HISTORY
Consumer Textile Corporation was established in 1907 by Mr. H.O. Dutton as a family laundry service.
In 1918, it was bought by R.H. Meyers.
After returning from the war in 1946, R.D. Myers purchased the business. Under "Doug" Myers' ownership, the business grew from a family laundry and dry cleaner and expanded into commercial laundry.
Doug sold the business in 1981 to two long-time employees, Dave Felch and Steve England.
In 2009, Dave Felch bought out Steve England.
Dave's son and daughter, Liz Johnson and Brian Felch, took over the day-to-day operations in 2015